Pure Tenacity



Welcome to "Pure Tenacity" web site. Where there is no such thing as a second place winner. For me only being in this great sport for such a little bit of time I have accomplished alot and accomplished all my goals. Now I have only one more goal in my life and that's to compete in the WPO with the Big Boys.
"The bar is loaded"
Your name is called.
You focus on the chalky knurling, and notice a small speck of rust on the left. The muffled roar of
the crowd sounds faraway and underwater - it doesn't matter. Your lifting partner normally seems loud and abusive, but you don't really notice him now - and his slap is nothing.
The ammonia capsule cracks in your fingers as you approach the bar - the rush follows the smell.
Life is very simple here: Either you lift the weight, or you fail. Nothing else matters. Like never before, YOU ARE ALIVE!
-House Of Pain Iron Wear
Next meet: APF Southern States PL Championships DEC. 1st 2002
My future goals for 2002 are a 900lb squat, 600lb bench press and a 750lb deadlift.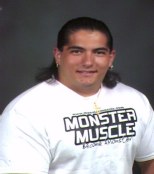 My Life
IM 19 years old and I have been lifting for about 5 years now. But I have only been powerlifting for two years. I was blessed with great strength. So far I hold 22 records 16 of them are across the state of Florida, 4 of them are American records, and 2 of them are World records. So I know what it takes to get strong. Yeah it might sound weird because IM young but I got 6 victories and 22 records under my belt.
Nobody really taught me anything about powerlifting. I kinda just taught my self and learned from some of the guys at my old gym by watching them train and asking for some pointers. About two years ago when I started powerlifting I started off with a 480 squat 325 bench press 470deadlift and a 1275 total. At 197lb body weight and 17 years old. Now IM 19 years old, 242lbs, and squatting810lbs, bench pressing 520lbs and deadlifting 675lbs.
My biggest support comes from my family and my coach which happens to be my uncle (who once had a 585lb bench @ 212). They have been to all my meets and I thank them. I would also like to thank all my old training partners back home at Worlds Gym: Dave Sharkey, Big "E", Mike Fries, Margaret, Mike, Troy, Steve, and Coach Tony who was the one who got me into powerlifting. They were also big support towards me and also the best spotters I ever had. I would Also like to thank my new training partners at Gold's Gym: Jason Keene, John Davis, and All of the other Johns (don't know there last names), Big Max, and if IM forgetting someone please forgive me.


Im gonna try to put up a feature program each week, for those who are interested. Its kinda of like a sample scheme of what I do to jump up my numbers. Its a 7 week program, and it has helped me alot. The good thing is, it works for each lift (squat, bench, and deadlift).

Contact Me
The best way to get in touch is via E-mail to BNH316@aol.com.

updated:7/16/02